Free Expert Anti-Fraud Training
Knowledge is essential in the fight against financial fraud. That's why we're excited to offer all ATB clients free anti-fraud training from KnowBe4, a global leader in security awareness that we use to train our team.
KnowBe4 is ATB's platform for security awareness training, and will help you recognize and defeat some of the most common tactics cybercriminals use—and it only takes 35 minutes to complete.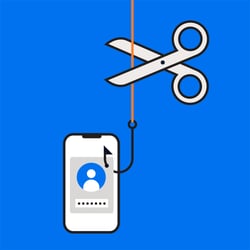 Why make time for the course?
Know your enemy.
The training will help you recognize and prevent phishing attempts, malware threats and other cyber risks.
Know your tools.
You'll learn how to use the best password practices, two-factor authentication and other important security measures.
Grow your peace of mind.
The course will boost your confidence in your safety every time you use the internet.
Register for immediate access to the KnowBe4 Home Internet Security Awareness Training. Sign up is open now and the course must be finished by November 30, 2023.

Need help?
Our Fraud Education Agents are happy to answer any questions you have. Call
1-866-904-0410
between 8:30 am and 4:30 pm, Monday through Friday, or
schedule a call.